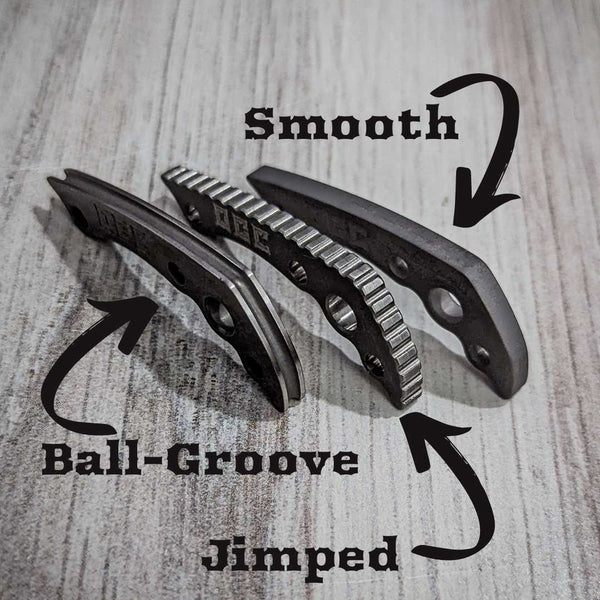 ***Compatible ONLY with Demko AD20.5 grivory models, THESE WILL NOT FIT THE BIG PIVOT MODEL
What completes the OG transformation...a matching titanium backspacer to go with our OG Titanium Scales...of course!!

Available in our three (3) popular styles: Smooth, Ball-Groove, and Jimped, and in three (3) OG finishes:
PHRESH- Fresh from OG production, unfinished, and ready for your pocket or the perfect foundation for any DIY anodization project.  This shiny metal finish will be the finish you seek if you want to match that OEM textured titanium finish.  
Stoned - Stonewashed for that "typical" titanium finish.  This stoned finish is sure to please those looking for that perfect in-between of our PHRESH and blasted finishes.
Blasted - A dark matte finish (shown in the photo)  
If you are looking to add a little color to your titanium, check out our coated titanium backspacers for those additional colored options.  (Watch your newsletters for anodizing drops)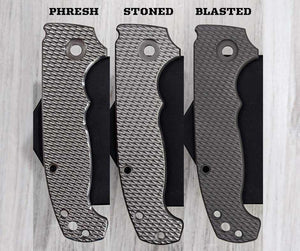 Titanium Finish Options
Choose from the following options...
PHRESH, this is a shiny finish straight from production. We lightly buff these to remove any sharp edges left behind by manufacturing, but you may still see light tool marks on this option.
STONED, this is your "typical" stonewashed finish...but with all that OG quality! We use the highest grade media and compounds so that these still remain a touch of shine.
BLASTED, this a darker, matte finish, and you can have them either dark blasted (shown) or a lighter blast that is just a few shades lighter due to the media we use, but still will have that matte look and feel.
what a great Backspacer
best looking spacer from out of all other companies , it willl really make ur ad20.5 look way better !
Excellent parts, Excellent service!
This was the 2nd backspacer I purchased from OG. The 1st was for my full size Demko MG AD20 (I also got unlined, textured titanium scales for the AD20)
The only hiccup was that the USPS lost the backspacer for the AD20.5! But the people at OG got right on top of it and sent me a replacement, and this time they sent it via UPS Overnight! So I had it by the next day!! OG is the best!
Superb
Couldn't be happier with the scales green is pretty awesome goes blue in the right light. Fit perfectly extremely pleased!