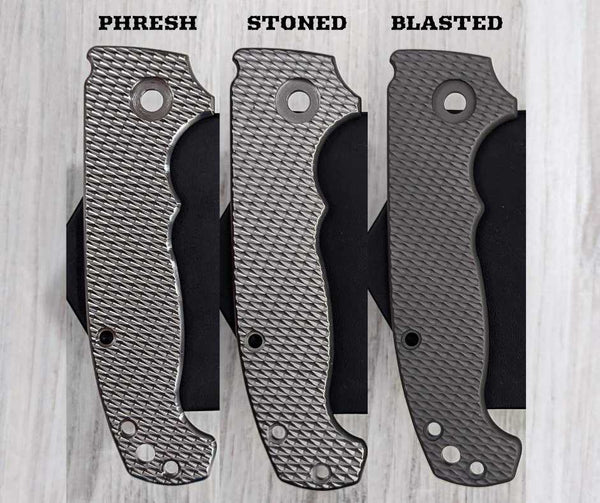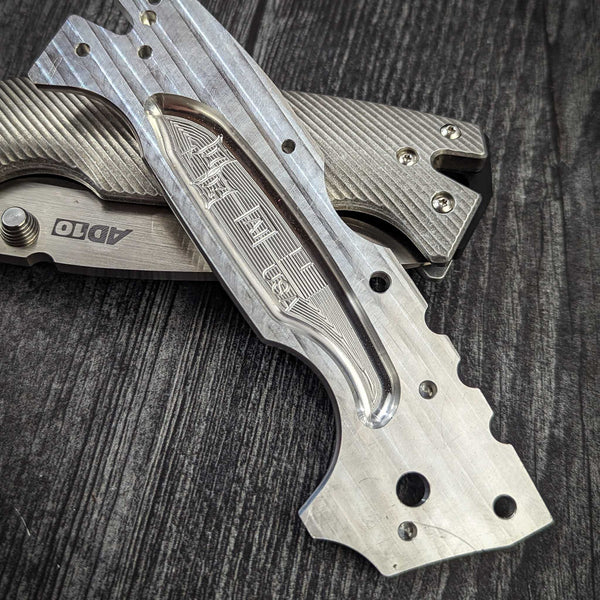 STOCKY GOAT - OG1 - Unlined Titanium Scales (Compatible w/ Cold Steel AD-10 & AD-10 Lite)
These linerless titanium scales will take that AD-10 and elevate it to an OG without a doubt!

These scales have that OG feel you know and love, with a contour to fit your hand just right, and with those OG textures, you will surely find that perfect grip for your carry!
Offered in full weight or our milled-out lightweight option, there is a weight option for you regardless of how you like your titanium.  If you want an even lighter option, check out our aluminum scale options! 
Two profile options for this model...standard - which includes the OEM style jimping, or smooth - which provides a smooth profile with no jimping.
*Photos coming, but see below as our OG1 texture was used as our finishing example.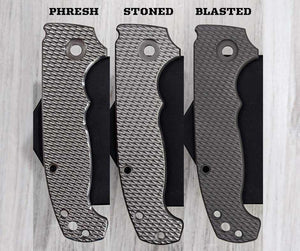 Titanium Finish Options
Choose from the following options...
PHRESH, this is a shiny finish straight from production. We lightly buff these to remove any sharp edges left behind by manufacturing, but you may still see light tool marks on this option.
STONED, this is your "typical" stonewashed finish...but with all that OG quality! We use the highest grade media and compounds so that these still remain a touch of shine on those edges.
BLASTED, this a darker, matte finish, that will have a softer feel but can be more fingerprint UN-friendly depending on your carry environment. We do give these a final OG touch to try to keep those fingerprints to a minimum, but you will likely still leave your OG imprint!
Ad10 scales
Been waiting for these scales to be released for a long time and they are all i hoped for as always from original goat!