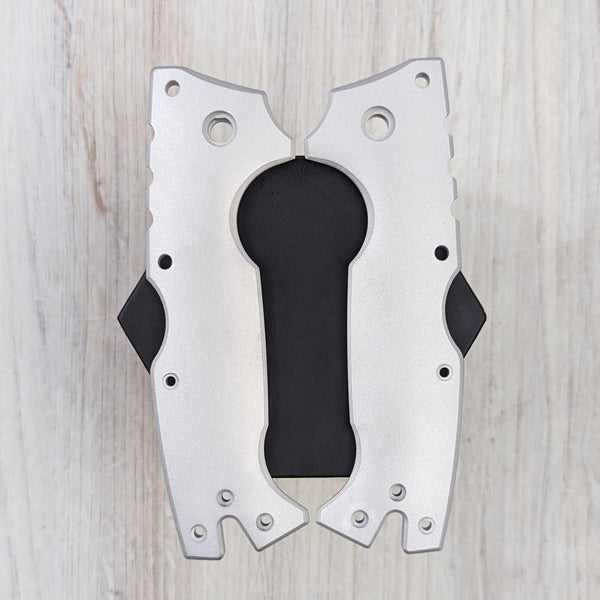 STOCKY GOAT - Smooth - Unlined Aluminum Scales (Compatible w/ Cold Steel AD-10 & AD-10 Lite)
Another Amazing Addition (AAA) - our new motto...as we have once again created a brand new GOAT for the Cold Steel AD-10 - with new finishes, new textures, and a completely linerless option in BOTH aluminum and titanium!
These scales have that OG feel you know and love, with a contour to fit your hand just right, and with those OG textures, you will surely find that perfect grip for your carry! 
Introducing our newest finish option - our STONED aluminum finish (see MM2 for photo example). 
We added a step to our process to give those aluminum scales that amazing feel, and we fell in love with the look...so for those looking for something a little more in between the natural shiny, scratchable aluminum and our In The Buff finish, then this might be your perfect option!
This is a truly smooth operator, as this is currently the only fully smooth texture we offer.  The curved surface we created allowed us to provide a "milled" smooth that we think you will enjoy!
We're only offering two options for this model...standard - which includes the OEM style jimping, or smooth - which provides a smooth profile with no jimping.
***STONED Finish DOES SHOW toolpaths/tooling marks***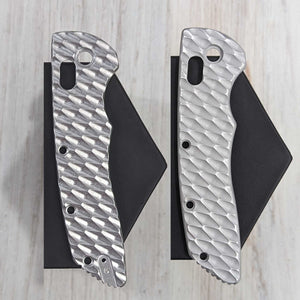 Stoned vs In The Buff
Stoned...a little shiner option, but still knocks down that super shiny aluminum.
In the Buff...a blasted and buff surface that takes that away that overall shiny finish but brings back just that hint of shine all along those edges.
Custom Ceramic Coat Options
From Splatters to Fades, learn more about our unique OG custom coating options to take your carry to the ultimate OG level!
Be the Color Magician
From Fades to Custom Splatter GOATs, the possibilities are practically endless when you create your own magical color creation.
Awesome!!!
These Aluminum AD-10 Scales are awesome and the install was crazy easy! These scales are more contoured than the original G-10 scales(which I like), fitment with hardware is perfect and the action on this thing is buttery smooth! Highly recommend these and The Original Goat knocked these things out!!!