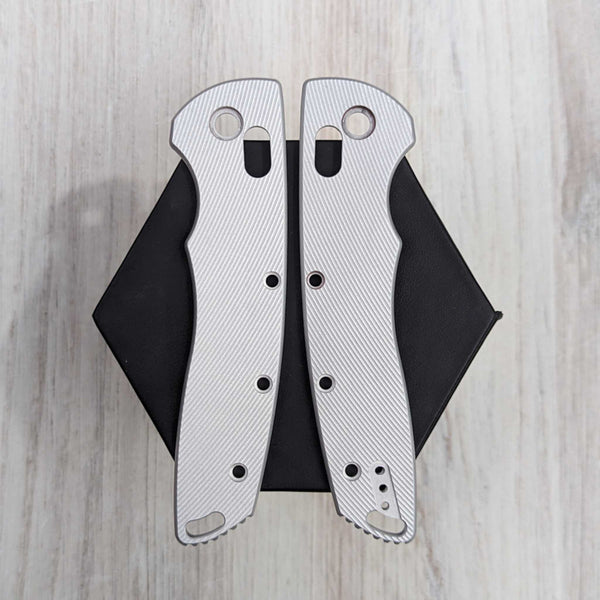 STOCKY GOAT - XL - MM1 - Aluminum Scales / In the Buff (Compatible with Hogue Deka v2)
***Compatible with the Hogue Deka v2 (this model DOES NOT have the two screws in the middle of the grip BUT this version DOES include the MAGNACUT option)
...looking for our Hogue Deka v1 compatible OG scales?
The MM1 is our "plain" micro-milled texture, with just enough texture to give a little style and grip while staying low-key for that subtle OG.  Not so low-key, then check out our Wings micro-milled texture and lift those to another level!
Want to add some color to your scales, then make sure to check out our ceramic-coated options and choose your favorite texture in your favorite color!  Choose from our standard, premium, make it a true Original GOAT with a custom color from any of the 100+ colors in Cerakote's H-Series color selection.
Not just replacement scales, with a few subtle improvements over those stock scales, these are sure to take your carry to the next level.
Including providing a LEFT-HANDED option; that's right, if you are part of the population that seems to be the forgotten OGs, we ARE bringing options for YOU TOO!  
XL (extended) - with 3/16" additional length, this option is excellent for those lanyard lovers and gives a better feel in hand and no more knife bites in your palm! 
Finger Jimping - based on customer feedback, we have added some grooves to the top of the profile to give your carry a better forward grip when needed!
Add some color to your carry by choosing your favorite cerakote color from one of our standard or premium options, or choose from 100+ Cerakote colors available on their website to match your OG style.
See below for all the special features that will make these aftermarket scales feel like an OG both in hand and in the pocket!
Right & Left Handed Options
Options for both right and left handed OGs! Making sure that EVERYONE can take a GOAT home!
Extra Jimping - From Top to Bottom
Whether it be that extra finger (see below for more details) or our extra butt jimping, once you put these GOAT on, you will immediately feel the OG difference, and be careful handling a stock model as they can be kinda slippery! (Watch those toes)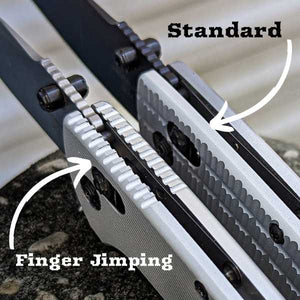 Finger Jimping Option
Take that jimping all the way with our added finger jimping on the top of the profile. Continues the blade jimping right into those gorgeous GOATs for that extra OG touch!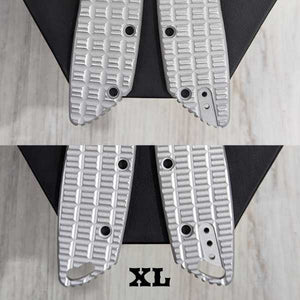 GO XL?
Our XL Deka Scales are 3/16" longer than our standard models, and will eliminate those nasty palm bites forever and provides a useable lanyard option for those lanyard lovers!
Check Out Those XL Options
SKNY VS STOCKY
Can you spot the difference? We removed the finger notch allowing for full finger/hand placement. Otherwise, same look and feel as our STOCKY GOATs.
GET THE SKNY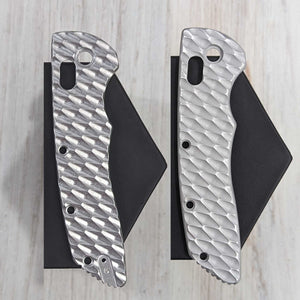 Stoned vs In the Buff
Stoned...a little shiner option, but still knocks down that super shiny aluminum.
In the Buff...a blasted and buff surface that takes that away that overall shiny finish but brings back just that hint of shine all along those edges.
Custom Ceramic Coating Options
From Splatters to Fades, learn more about our unique OG custom coating options to take your carry to the ultimate OG level!
Be the Color Magician
From Fades to Custom Splatter GOATs, the possibilities are practically endless when you create your own magical color creation.
Stocky Goat XL MM1 aluminum scales
The scales fit perfectly, and the finish was perfect, no areas where the coating was light or heavily sprayed. If you watch You Tube videos and you see one that says it is OD green and the video looks like a semi-gloss emerald green, check with OG to make sure of the color so that you get the color right. The color on mine didn't look like the video but I was still happy with it. The XL version is perfect if you got large hands. My little finger kept slipping off the handle on the original scales but now there's no problems. OG had good updates when the scales were ready to ship.