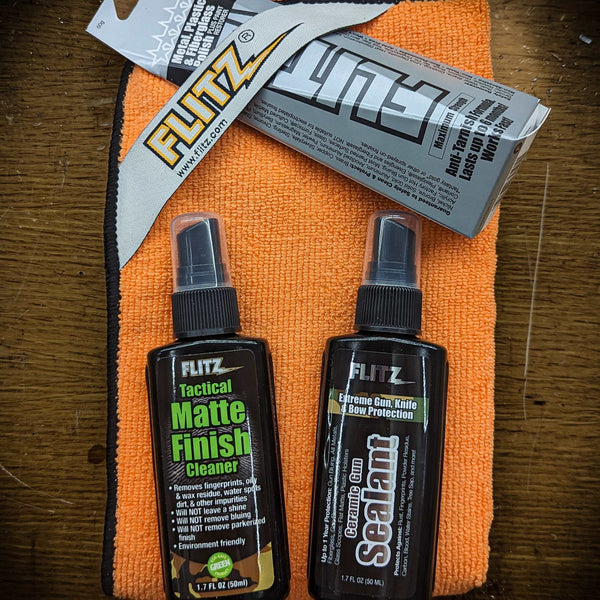 The perfect combo for any everyday carry enthusiast!  This kit contains everything you need to keep your carry clean and protected in one convenient ready-to-use kit!  This economical kit will get you started with all the tools you need!
The kit includes the following:
1.7oz tube of Flitz Polish
1.7oz Tactical Matte Finish Cleaner Spray Bottle
1.7oz Ceramic Sealant Spray Bottle
1 Flitz Hunter/OG Orange Microfiber cloth (twice as large as their normal grey cloths for even more cleaning surface) 
Flitz Polish - The product that started it all...the legend...the OG, if you will, created over 40 years ago to restore, clean, polish and protect your favorite everyday carry or really just about ANYTHING!!  (Learn More)
Flitz Tactical Matte Finish Cleaner - keep that matte finish looking good by thoroughly and safely cleaning dirt, oils, and residue from your favorite carry with this product.  (Learn More)
Flitz Ceramic Sealant -  protect that carry with a hydrophobic "hard shell" coating that lasts up to one full year with this sealant that gives you all the protection you need to keep moisture away and have if performing at its best! (Learn More) 
A super large "thick & thirsty" Flitz Microfiber cloth, in the Original GOAT (hunter) orange completes this kit to make sure you have everything to give that carry the proper the OG love it deserves!  This cloth features their patented Starfiber Microfiber technology, this cloth works better than any other cloth on the market today - with or without chemicals - sounds pretty OG if you ask us!!
More information and specifications at Flitz website.