***Compatible with AD20.5 G10 & Carbon Fiber models only, will not fit linerless Ti models***
Our "stocky" GOATs are designed to give you that stock experience but with that OG upgrade!  These are our thinnest and lightest titanium options available for the AD 20.5. 
Take your carry to the OG level with one of our unique textures, sure to be the perfect addition to your collection.  
Check out our standard titanium backspacer, or make it a matching bundle with our Stoned Titanium Bundle to complete your look!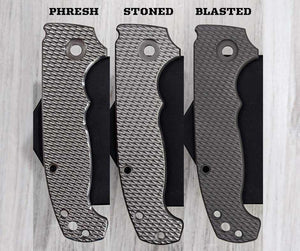 Titanium Finish Options
Choose from the following options...
PHRESH, this is a shiny finish straight from production. We lightly buff these to remove any sharp edges left behind by manufacturing, but you may still see light tool marks on this option.
STONED, this is your "typical" stonewashed finish...but with all that OG quality! We use the highest grade media and compounds so that these still remain a touch of shine.
BLASTED, this a darker, matte finish, and you can have them either dark blasted (shown) or a lighter blast that is just a few shades lighter due to the media we use, but still will have that matte look and feel.