***
Small Pivot - Compatible with Demko AD20.5 grivory models only
Big Pivot - Compatible with Demko AD20.5 Carbon Fiber & G10 models only, does not fit linerless Titanium model
***
Our PHAT GOATs are 0.04" thicker than our STOCKY GOATs and will give you a little more scale for your grip!  These ARE LINERED titanium scales, so swapping to an OG should be a breeze!
Take your carry to the OG level with one of our unique textures, sure to be the perfect addition to your collection.  
(We are still working on "Big Pivot" backspacers, so stay tuned for those options to build a complete titanium OG)
***STOCKY GOATs shown in photos for texture reference only; our PHAT GOATs will cover those pins.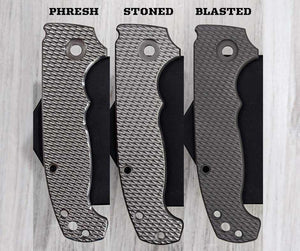 Titanium Finish Options
Choose from the following options...
PHRESH, this is a shiny finish straight from production. We lightly buff these to remove any sharp edges left behind by manufacturing, but you may still see light tool marks on this option.
STONED, this is your "typical" stonewashed finish...but with all that OG quality! We use the highest grade media and compounds so that these still remain a touch of shine on those edges.
BLASTED, this a darker, matte finish, that will have a softer feel but can be more fingerprint UN-friendly depending on your carry environment. We do give these a final OG touch to try to keep those fingerprints to a minimum, but you will likely still leave your OG imprint!
AWESOMENESS
These scales make the knife feel so much better than stock and give it that full hand feel will be buying more