***Compatible with the Hogue Deka v1 ONLY...
...looking for our

 

Hogue Deka v2

 

compatible options (including that magnacut option)
Bringing some color to your collection with a set of ceramic-coated aluminum scales in our wings micro-milled texture for that subtle grip and style to match your OG vibe!

Not just replacement scales, with a few subtle improvements over those stock scales, these are sure to take your carry to the next level.
Including providing a LEFT-HANDED option, that's right if you are part of the population that seems to be the forgotten OGs, we ARE bringing options for YOU TOO!
Finger Jimping - based on customer feedback, we have added some grooves to the top of the profile to give your carry a better forward grip when needed!
See below for all the special features that will make these aftermarket scales feel like an OG both in hand and in the pocket!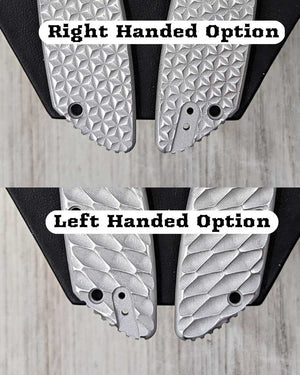 Right & Left Handed Options
Options for both right and left handed OGs! Making sure that EVERYONE can take a GOAT home!
Extra Jimping
When this became our daily carry, we realized that the bottom needed a little more grip. Once you put these OG scales on, be careful handling a stock model as they can be kinda slippery! (Watch those toes)
Sleek and grippy
I love these. My Deka was already a great knife, but these scales are a significant upgrade.