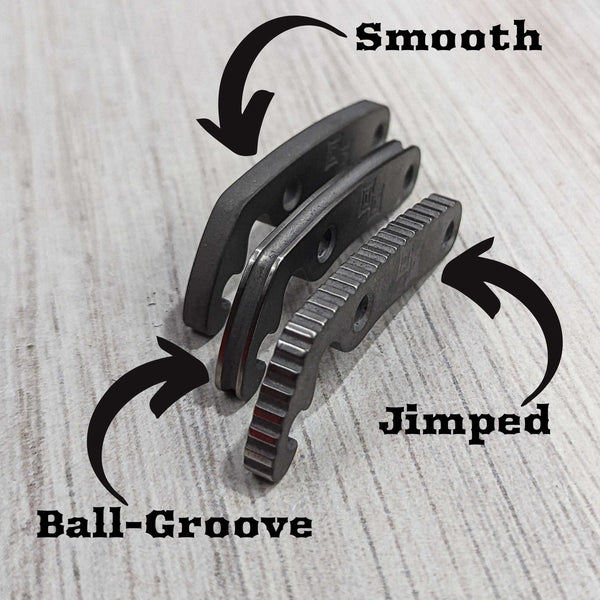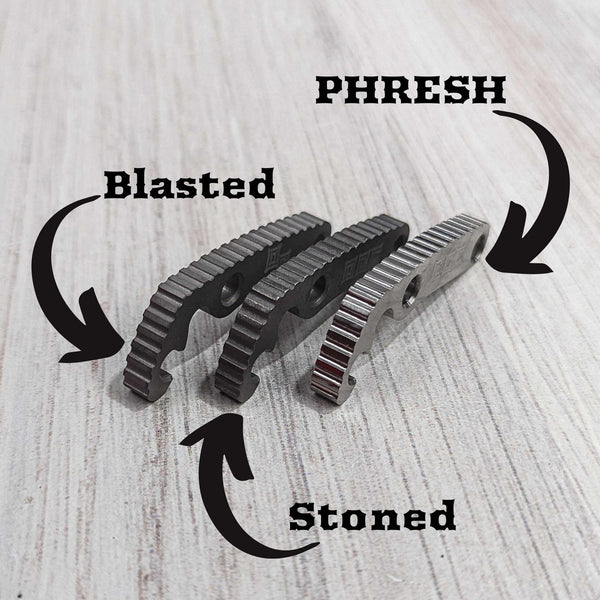 ***NOTICE: NEW SLICER SHARK BLADE TOO LONG FOR BACKSPACER...MAY CHIP BLADE!!!!
Complete that titanium build with an OG titanium backspacer.  Make it a matching set, or change things up to give a little finish contrast!
Finish Information:
PHRESH- Fresh from OG production, unfinished, and ready for your pocket or the perfect foundation for any DIY anodization project.  This shiny metal finish will be the finish you seek if you want to match that OEM textured titanium finish.  
Stoned - Stonewashed for that "typical" titanium finish (photos still coming).  A lighter finish than our previous stonewash, this stoned finish is sure to please those looking for that perfect in-between of our PHRESH and blasted finishes.
Blasted - A dark matte finish, we take this finish one step further to help prevent fingerprints; however, you are still likely to leave your OG imprint on this option!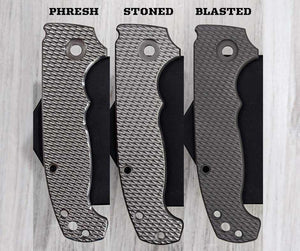 Titanium Finish Options
Choose from the following options...
PHRESH, this is a shiny finish straight from production. We lightly buff these to remove any sharp edges left behind by manufacturing, but you may still see light tool marks on this option.
STONED, this is your "typical" stonewashed finish...but with all that OG quality! We use the highest grade media and compounds so that these still remain a touch of shine on those edges.
BLASTED, this a darker, matte finish, that will have a softer feel but can be more fingerprint UN-friendly depending on your carry environment. We do give these a final OG touch to try to keep those fingerprints to a minimum, but you will likely still leave your OG imprint!
I really love these back spacers wish I would of got some more haha
AD20 Ti Backspacer
Fits perfectly and looks great!
Amazing craftsmanship!
I'm continually impressed by the quality of OG products! I'll be a customer for life!!