GOAT SHELL - OG1 - Linerless Aluminum Clamshell - In the Buff (Compatible with Spyderco Manix 2)
Our Manix 2 scales are a complete clamshell design featuring a built-in backspacer and an integral lanyard tube, so there is no need to worry about that barrel spacer making this one of the easiest Spyderco scale swaps on the market!  
Also, these will lighten your load by reducing that carry by over an ounce from stock!
Elevate that Manix 2 to an OG with confidence and no extra tools other than the appropriate screwdriver!  
Add that extra touch of your OG style with our cerakoting options, and take that carry from mild to wild with our many coating options.  Choose from a single color with our standard or custom color options, or really express yourself with our Splatter and Fade creations!
All Original GOAT products are 100% USA Made from the design to the manufacturing in Tallahassee, FL. 
 ***prototype shown, screw hole next to lanyard hole has now been removed!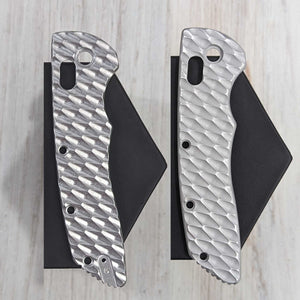 Stoned vs In The Buff
Stoned...a little shiner option, but still knocks down that super shiny aluminum.
In the Buff...a blasted and buff surface that takes that away that overall shiny finish but brings back just that hint of shine all along those edges.
Custom Ceramic Coat Options
From Splatters to Fades, learn more about our unique OG custom coating options to take your carry to the ultimate OG level!
Be the Color Magician
From Fades to Custom Splatter GOATs, the possibilities are practically endless when you create your own magical color creation.
Scales
I bought scales for a spyderco manix2, the fit and finish was spectacular, it made my manix2 look and feel like a much more expensive knife. I will definitely buy from them again